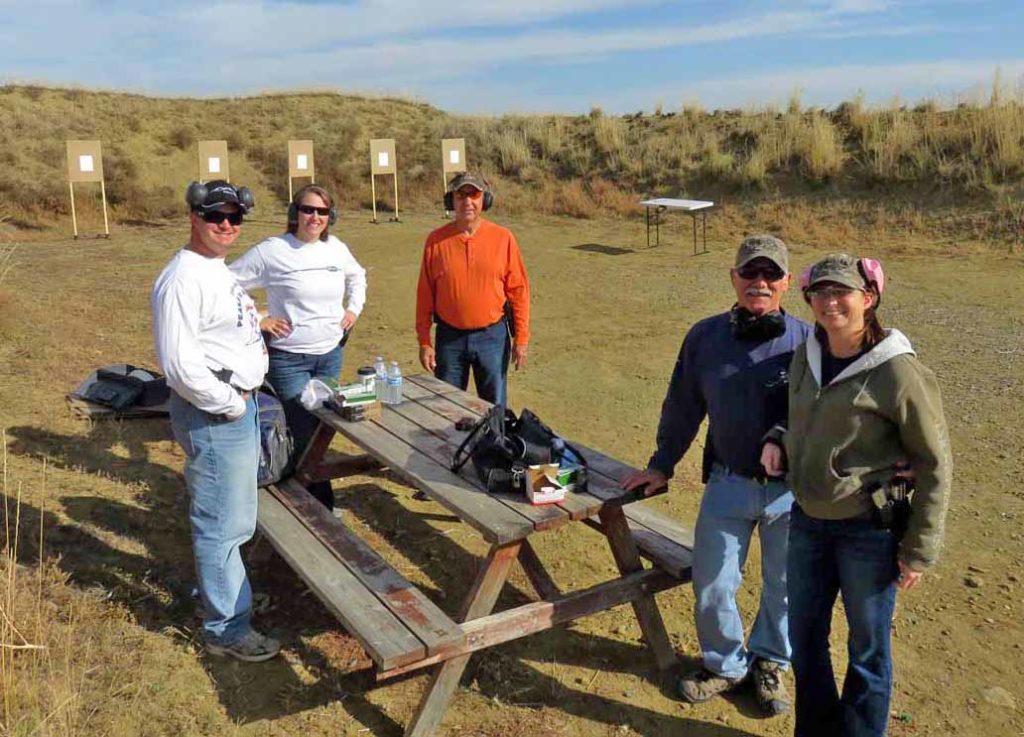 STUDENTS COMPLETE DEFENSIVE HANDGUN TRAINING SERIES.
Will you Know When, Know How, and have No Doubt about your ability and confidence to defend your life with a gun?  It is an important question for every gun owner to ask yourself!
On September 13th, five serious students began a six week training series, ultimately completing four levels of defensive handgun training.   These people were determined to gain the necessary skills and knowledge to confidently and competently defend themselves with a handgun, as a last resort, when threatened with an imminent threat to their life.  In doing so, these gun owners gained vital skills and a realistic perspective of the realities of employing a handgun in defense of their lives.
Graduating on October 12th, these students received certifications for completion of the NRA Basic Pistol Course, the NRA Personal Protection In The Home Course, the NRA Basic Personal Protection Outside The Home Course, and the NRA Advanced Personal Protection Outside the home Course. Obviously, they were serious about building their knowledge and skills to defend themselves, as evidenced by a considerable investment of their time and effort to achieve their current knowledge and skills.  We worked hard, learned much, and had a lot of fun!
As I blogged in a recent website post at  http://zero-victims.com/blog/, "It is important to understand that carrying a concealed handgun and using any gun in self defense comes with great responsibility. Nothing is obvious to the uninformed and, unfortunately, many gun owners are not aware that they do not know enough or have the skillset to safely, effectively and confidently carry and/or utilize a gun in or out of their home to protect themselves and their loved ones." As a testament to this assertion, the following are some of the comments  our students shared following the recent 6 week course:
"I am surprised at how much I thought I knew, and at how much I REALLY DID NOT KNOW!"
"I now feel I am confident in my knowledge and skills to carry and use a gun to defend myself."
"I had no idea about the important laws I needed to be aware of."
"I can't wait to learn more."
"I can't believe people are permitted to carry a concealed weapon with just a 4-hour classroom session with no requirement to even shoot a real firearm."
These students' reactions reinforce our belief that teaching a classroom-only course, which "technically" meets the minimum statutory requirements to be issued a concealed carry permit, is not adequate or realistic training to carry and use a gun in self defense.  At a minimum, both classroom and live fire range time are necessary components of basic handgun knowledge and handgun familiarity.
Ask yourself this question:  "Would I feel confident, knowledgeable, and capable to employ a gun in my own self defense after attending a three to four hour classroom-only session?"
Using a gun in self defense requires training and practice, and plenty of it.   In fact, the more, the better.  Muscle and Mental Memory are necessary components of reacting in an adrenaline filled envioronment such as defending yourself with a gun.  And the ONLY way to achieve that necessary muscle and mental memory is through real practice and repetition. Congratulations to the men and women who recently completed this series of classes!!   This defensive handgun series included basic handgun familiarization, a throrough review and discussion of the laws and potential legal consequences and experiences involved with the aftermath of using a gun in self defense, followed by significant repetitive shooting exercises to build skills, threat awareness, and mental and muscle memory.
You can view the photos at zero-victims.com under "Galleries."
These people take their self protection, and their responsibilities as gun owners, seriously.  Plenty of classroom instruction and discussion, combined with repetitive live fire shooting drills and scenarios, increased their knowledge and skills to Know When, Know How and have NO Doubt about what it takes and what their capabilities are with their handgun.
This was an outstanding, fun, and rewarding group to have worked with!
See you on the range!
 Firearms & Personal Protection Training
www.zero-victims.com
Frank Odermann,  U.S. Navy SEAL (Retired)
ZERO Victims
Billings, MT