Meet the instructor
Frank Odermann is a retired U.S. Navy SEAL, Senior Chief.  He is a devoted parent and the owner and lead instructor of Zero Victims.  Frank has instructed thousands of people in defensive shooting skills.  Frank has instructed Military and Civilian personnel.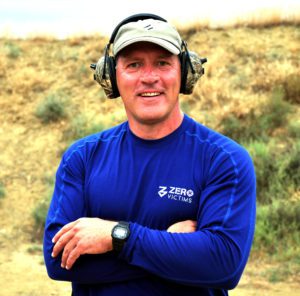 Frank's Qualifications
U.S. Navy SEAL (Senior Chief, Retired)
U.S. Navy Instructor (NEC 9502)
USCCA Certified Firearms Instructor
NRA Certified Chief Range Safety Officer
NRA Certified Basic & Advanced Personal Protection Outside the Home Instructor
NRA Certified Personal Protection in the Home Instructor
NRA Certified Basic Pistol Instructor
NRA Certified "Refuse To Be a Victim" Instructor
NRA Certified First Steps Pistol Instructor
"Frank is a natural-born teacher!  Whether you are a beginner or an accomplished pistol expert, you will find that Frank is a down to earth, humble and knowledgeable firearms instructor. The classroom atmosphere is open and relaxed with lively discussions and expert knowledge that is easy to understand. On the range, Frank's patience and skills shine through as he applies the classroom learning into real life practical exercises. If you are looking to carry a concealed weapon or would like to sharpen your skills, you will be amazed at the amount of information and "real world" lessons that you will learn."

Lou McPhail, Northwest College Criminal Justice Department Chair
Know When. Know How. NO Doubt.
At Zero Victims, you get what you pay for; High Value Training.  Know When, Know How, and have No Doubt  when you, or your loved one's, life is in danger.
OUR VISION
We have a vision of increasing the number of people who are able to defend themselves against violent crime.  We combine tactical firearms training and situational awareness that empower you to protect yourself and your loved ones.
Our highly specialized and personal training is tailored to fit shooters of all experience levels. You will be trained by a Navy SEAL.  Safety is paramount in our instruction. We are approachable and dedicated to your success.
We are confident that your first experience with us will not be your last!